The prevention of competition for wealth and power is a necessary and sufficient condition for Universal Sustainable Happiness. Any method whatever for achieving this is dematerialism. (This change in the Fundamental Principle was inspired by the possible necessity for one or two hard-and-fast laws to subvert the most maladaptive aspects of human nature*.) Any society in which it is possible for one person to acquire more material wealth than another is doomed.
On this Page
Specialized Sub Domains for Net Energy, Music, and Modeling
Status, Materialism, and Dematerialism
Can resource dominance be eliminated from human behavior?
The Demise of Business as Usual
EROEI as a Measure of Feasibility
Energy Returned over Energy Invested (a blog)
Why K–12 Education Does More Harm than Good
Graduate education in engineering and science
Character Education in the Houston Independent School District and John Gattos's Six-Lesson School Plan
The role of materialism in the mis-education of youth
Hyperlinked to this Page
Complete table of contents of this website
On the Preservation of Species (full 600-page book in one file)
On the Preservation of Species (full 600-page book in a zip file)
On the Preservation of Species (table of contents hyperlinked to individual chapter files)
Social Problems and Solutions (many important ideas from the book – 56 pages)
Useful Concepts from On the Preservation of Species
Additional Web Space for Dematerialism, Net Energy, and Sustainability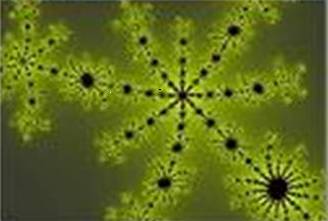 http://dematerialism.net/ This has been my principal website for many years and has most of my earlier work only some of which is worth reading
http://eroei.blogspot.com/ This is where I say the most important things about sustainability – against all odds and in the face of strong opposition. Sometimes my frustration shows.
http://dematerialism.wikispaces.com This was a practice shot to get into the Wikipedia. I now have a better idea of what to say. After all, dematerialism is a limiting case. It is on the boundary of the space of all possible political and economic systems. It should be in the Wikipedia and these are some its principal characteristics.
http://dematerialism.blogspot.com/ This is where I write down anything new that occurs to me. That includes new ways to explain the parts that few people understand.
http://sustainabilitymath.blogspot.com/ This has a few documents that are found elsewhere. It was my protest regarding the people who grabbed sustainability.blogspot.com and don't understand sustainability.
http://eroei.net/ This stuff can be found elsewhere. Someday, I'll make it a "quick start" guide to dematerialism. As it is, it is not a bad portal to my net energy work, namely, ERoEI star.
http://www.justpassinthru.com/users/home/twayburn/ is supposed to mirror dematerialism.net but I find it hard to keep it up-to-date. I have started working on this problem.
Specialized Sub Domains for Dematerialism, Energy, and Education; Net Energy; Jazz and Classical Music; and Model Railroads
Jay Hanson's America 2.0 Google group
Energy and Population Hyperlinks
Open People, Open Source, and Public Domain Hyperlinks
About this Website
Its Purpose
The purpose of this website is to answer the questions I asked in the Mission Statement of the Yahoo group Running on Empty Politics: What can be done to prevent widespread misery in the wake of Peak Oil? If we are not satisfied simply to be one of the few survivors of Peak Oil, what should we do? What policies should we advocate? Should we support social-economic-political change? What changes should occur? How are they to be initiated? By whom? What sort of society do we hope for after the Petroleum Era has ended?
To the Reader
I know that your time is limited, and you can't read everything. In my opinion, the best way to read this website is to read the three parts of the copy of my wiki on Dematerialism (hyperlinked below) and the three papers on Energy (hyperlinked below) in the order the hyperlinks appear on this page in 16-point headings. Read as far as you wish, and glance through the rest. If you are looking for something else, return to the Table of Contents and browse through the rest of this page. If you still don't see what you are looking for, go to the Complete Table of Contents, which serves as a sort of index. I hope this is satisfactory, but feel free to suggest changes.
Relatively Recent Activities
"The Economic Growth Trap" by (the late) David Delaney. Today (01.23.06) I read "What to do in a failing civilization" by David M. Delaney. It contained the best explanation of why American-style capitalism requires growth I have ever seen. With the kind permission of the author, it is reprinted below. The full paper and other essays by Delaney can be found at http://geocities.com/davidmdelaney/.
Economic growth requires increasing the amount of high quality energy and materials degraded by the economy each year. Economic growth on a finite planet will eventually stop. If it does not exhaust the resources needed for its continuation, it will stop earlier for some other reason. Allowing resource depletion and biosphere degradation to terminate economic growth will produce catastrophe. Unfortunately, our dependence on economic growth makes it extremely unlikely that we will give it up voluntarily before the catastrophe. Our dependence has at least four aspects: A) in the need to deal with adverse consequences of labor-reducing innovations, B) in commercial bank money, C) in the need to maintain tolerance of inequality, and D) in financial markets.
A) The first dependence on economic growth is in the need to avoid the adverse consequences of innovations that reduce the need for labor.1 By definition, each labor-reducing innovation either increases the amount of a good produced or throws some people out of work. Firms that create or exploit a labor-reducing innovation create new jobs internally by driving other firms out of business. The new jobs implementing the innovation offset the loss of jobs caused by the innovation, but the innovating firms don't necessarily hire all of the job losers, because the innovation reduced the total amount of labor needed to produce the original amount of the good. In order to re-employ all job losers, the economy must grow to produce more of the good with all of the original workers, or produce more of some other good with the cheaper labor (the job losers) now available. In either case the economy grows. Much of what we consider progress is due to labor-reducing innovations. In order to live without economic growth, we would have to give up this kind of progress, or introduce arrangements to allow workers who become unproductive to retain their relative wealth and self-respect, or relegate most people to a repressed underclass. There is a powerful incentive to avoid these contingencies by encouraging economic growth.
B) The second dependence on economic growth is in the creation of money by the act of borrowing at interest from commercial banks. Much of the money in each loan by a commercial bank is created by the loan itself. The bank collects a fee—the interest—for providing the service of creating the money. Other ways of creating money have been explored in theory and practice. Successful local currencies have been based on some of these alternatives, (see Douthwaite, Short Circuit, page 61) but all national money is now created by interest-bearing loans from commercial banks. This way of creating money contributes instability to an economy based on it. In order to keep the money supply from contracting when a loan and its interest are paid, a larger total of new loans must be created, increasing the money supply. (This is not transparently obvious. For a more detailed explanation, see Douthwaite, The Ecology of Money, page 24.) When the economy grows to match the increasing money supply, the value of money is relatively stable, and commercial-bank-created money is benign. If the rate of economic growth does not match the rate of growth of the money supply, the money supply becomes unstable. Given the use of money created by interest-bearing loans from commercial banks, an economy can minimize the resulting instabilities of the money supply by sustaining moderate growth. Monetary instability would put significant hazards in the way of deliberate attempts to contract our economy unless the creation of money was radically reformed.
C) The third dependence on economic growth is in the political and geopolitical need for tolerance of inequality. Differences of wealth are at least as great within the developed countries as they are between developed and developing countries. Think of the ratio of the average income of American CEOs to the average salary of workers in their companies. Domestically and internationally, the tolerance of the poor and middle classes for the existence of wealthier classes and countries depends on a belief in economic growth. The poor struggle, while seeing that others are wealthy and still others are grotesquely wealthy. The poor are told a story: if they keep to their work and to their diversions, and tolerate the rich, they will be better off in the future than they are today. They believe this story, or at least don't revolt against it, because it is supported by propaganda and shared myths, and has been true for many. When economic growth disappears forever, the poor, like everyone else, will recognize that they will be progressively worse off, with no future relief possible. The peaceful tolerance by the poor and the middles for the rich will disappear. A peaceful end of economic growth would require redistribution of wealth, with consequent political and geopolitical contention. Desire to avoid the contention makes it unlikely that deliberate elimination of economic growth will be attempted before economic growth is ended by nature. The intolerance of differences of wealth that will then appear will itself not be tolerated by the rich, causing additional domestic and international conflict just at the advent of other adverse changes. At that time, if not before, tyrannical repression of the poor will greatly tempt the rich.
D) The fourth dependence on economic growth is in the financial markets—the mechanism of capitalization of public corporations. Public corporations, the main actors in industrial economies, depend on financial markets not only for capital for innovation, but for discipline, valuation, motivation, and a major part of their rationale for existence. Owners of capital—investors—give the use of it over to public corporations by buying equity or debt in financial markets. They do so only because they expect that they will, on average, and over the long term, receive back more than they gave up. That expectation disappears when most investors understand there will be no economic growth. Most of the apparent wealth of the world consists of equity and debt bought and sold in financial markets. . Any realistic possibility of the end of growth would fill investors with something like terror. Political initiatives to bring an end to growth will be opposed by investors with every means at their command. The controversial nature of proposals that would reduce or eliminate economic growth will likely prevent the proposals from reaching even the status of political contention. When the onset of sustained economic contraction is generally perceived, investors will withdraw from financial markets. The resulting failure of the markets will make many necessary developments impossible to finance and will produce confusion and stasis in public corporations just when we need them to adapt to new circumstances.
N.B. For the last few days, I have been posting short papers and some of my current thoughts on ERoEI to a new blog at http://eroei.blogspot.com/ in an attempt to remedy the inadequacies of the received wisdom on the subject that I heard expressed at the podium at the recent Association for the Study of Peak Oil Conference in Austin, Texas. No wonder so many of the Yahoo! Peak-Oil forum members claim that "ERoEI is not what it's cracked up to be". ERoEI and emergy are absolutely essential concepts for understanding our contemporary world; so, we had damn well better get them right, which, by the way, I believe I have done. Therefore, please take a look at the blog and leave comments whether you like the blog or not! Click on http://eroei.blogspot.com/.
Model Railroads By now some readers of these pages know that I am spending a lot of time modeling railroads. This is a more or less harmless pursuit and it provides an outlet for such creative talents as I still possess. I have opened a sub-domain at http://modrr.net/ to provide my "brainwashed" friends access to the model railroading aspect of my life without becoming enraged at the political material I have written that is too far beyond their present political understandings. Most of my model railroading friends have fallen victim to the extreme anti-communist propaganda that permeates their lives.
Lately I have been working on the model railroad the development of which is recorded in a series of MS PowerPoints that are linked to http://modrr.net/railroad.htm, which clearly has nothing to do with dematerialism or energy except insofar as the Union Pacific coal mining operation in Southern Wyoming was one of the most egregious examples of the violation of both humanity and Nature. Also, for later pictures, see http://modrr.net/texaschildrenshospital.htm, http://modrr.net/screensaver.htm, http://modrr.net/clouds.htm, and http://modrr.net/petref.htm .
The Solutions Journal The website http://www.thesolutionsjournal.com/yoursolutions of Solutions for a Sustainable and Desirable Future has kindly posted the contents of my wiki. It is a very good fit in my opinion, as most of the contributors understand that we have reached a limit to growth that practically guarantees a die-off somewhere in the world in the wake of Peak Oil. Americans are slow to recognize Overshoot because our government has made it its business to export the die-off to foreign shores. Many of us have been forced to reduce their expenditures because of unemployment, but very few are missing meals. At least, if they are, I am not aware of it. On the other hand, starvation is all too common in states where we have used our military strength to trade ruinous loans for precious natural resources, particularly in Africa, which seems to suffer no matter what else is going on.
Social Media
Facebook: http://www.facebook.com/friends/?ref=tn#/home.php?ref=home I have only the usual positive results to report.
Twitter: http://twitter.com/ I have very little experience with twitter, but it seems to be useful to many people.
Houston Chronicle: http://www.chron.com/commons/persona.html?newspaperUserId=TomWayburn or http://tinyurl.com/9bkzv7 After leaving a comment on Loren Steffy's blog, I accepted the Houston Chronicle's generous invitation to start my own blog, albeit tucked away in a dim, dark corner. Am I being naïve to suppose that this will not be used to lure me into the clutches of my most vicious political enemies? Partly to defuse that possibility, I have labeled the blog politically moderate, which of course I am.
I found Peter Russell's World Clock page so interesting that I decided to link to it: http://www.peterrussell.dreamhosters.com/Odds/WorldClock.php
I have added a link in About the Author to an mp3 version of the record I made with Lennie Tristano and Peter Ind when I was 22 years old. If you are interested, click on http://dematerialism.net/tristano.mp3.
As of September 8, 2008, this website is hosted by hostmonster.com. .
Beginning in August, 2007, http://www.justpassinthru.com/users/home/twayburn/ will mirror this website except that a few large files will be zipped and the DOE's Annual Energy Outlook for 2005 will be omitted. The justpassinthru.com website is recognized by this sign: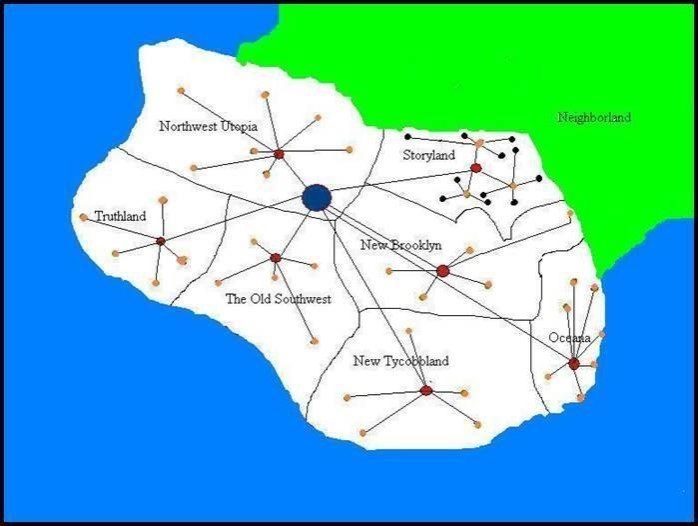 Lately, I have found it increasingly difficult to sync the justpassinthru website with this one. It's hard enough to manage one website; therefore, http://www.justpassinthru.com/users/home/twayburn/ is bound to lag.
See the journal entry for July 30th for some preliminary calculations on carbon dioxide emissions during the solar cell production cycle.
See the extended journal entry for July 27th on "Communism and Some Idle Thoughts on the Excesses of Capitalism". This and the entries of June 9th and June 16th have been pulled together in a discussion of the differences between War Socialism and the Natural Economy at http://dematerialism.net/hanson.htm. Thanks to James Sinnamon, this is available at http://candobetter.org/blog/18, my new blog on candobetter.org.
For readers of my Facebook comment to Andy Fite's song, I am providing this list of my best papers and other essential papers even if they are not well-written. If I think a paper is necessary or very useful to understand what is happening in the world now, I have listed it. This is a lot to read. If anyone actually reads these papers, I will try to think of additional papers to add to the list. Please let me know if you are reading any of them. I will answer questions if I can.
Status, Materialism, and Dematerialism
Can resource dominance be eliminated from human behavior?
Why capitalism requires economic growth
Communism and Some Idle Thoughts on the Excesses of Capitalism
The Demise of Business as Usual
ERoEI* as a Measure of Sustainability
Energy Returned over Energy Invested
The Brights
This is the symbol of a humanist, atheist group that opposes many of the views expressed in the numerous Mincius Soda websites: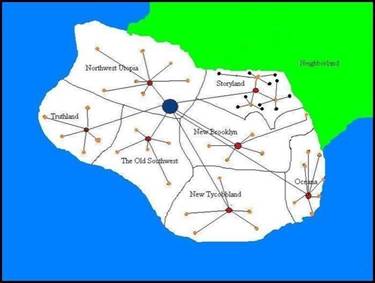 Here is a photo of the poster on evolution the Brights intend to distribute to science classes: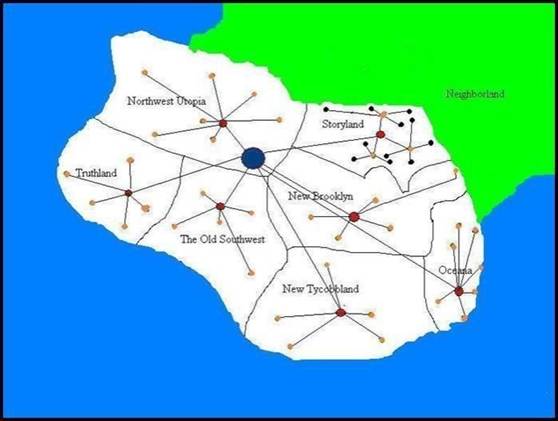 Additional Web Space
In case this website is unavailable here is a complete list that includes the site you are reading:
http://dematerialism.net/ where all of my web documents can be found
http://www.justpassinthru.com/users/home/twayburn/ where all of my web documents can be found
http://geocities.com/twayburn/ where an older version of this homepage can be found and a few other things
Hyperlinks inside a given root directory may point to a root directory that is not available, in which case simply replace the bad root directory with one of the above.
Readers who consider this material important may want to download copies in case something happens to me. Make free use of anything written by me in accordance with the ethical use of the public domain. I expect that decent people will not abuse the content to change the meaning or intent. The reader can determine what I mean by 'decent' by reading the book On the Preservation of Species.
Identity Information
This website was designed, written, and constructed by me, Thomas Wayburn of Houston, Texas. I am responsible for its contents. Please address all correspondence to wayburn@dematerialism.net. Corrections, suggestions, and constructive criticism will be appreciated. Vituperation is acceptable too.
Dematerialism
Dematerialism is the process. Natural Economy is the goal.
Any method whatever for unwinding materialism is dematerialism. The purpose of this section is to explain my version of dematerialism – Dematerialism with a capital D. Status, Materialism, and Dematerialism
This is a list of the principal features that would be incorporated in an intentional community designed by a dematerialist. If the thesis of On the Preservation of Species is correct, the features of a Natural Economy might be adopted by an entire geo-political entity such as the United States – perhaps after a long period of struggle. A Natural Political Economy
It seems that every half-baked pseudo-intellectual who reads Pinker or Dawkins grabs onto evolutionary psychology to justify every sort of bad behavior! Just because we have inherited a gene for a maladaptive atavistic trait like barnyard aggressiveness or resource dominance does not excuse the incorrigible behavior that results from lack of self-control in people of goodwill and voluptuary pleasure in evil for the rest, unless, of course, it is impossible to resist the demands of the gene. This raises a questiona question that addresses the principal objection to Dematerialism, namely, the notion that resource dominance, as evolutionary psychologists would term it, is hard-wired into the universal human character and cannot be overcome by any means whatever. Can resource dominance be eliminated from human behavior?
Energy
Nowadays, the two greatest problems of humanity are population growth and resource depletion. The consumption of fossil fuels will diminish because of decreasing availability and the perceived damage to the environment their use entails. The most important resource that we are running out of is the environment itself. For these and other reasons energy studies have become the thrust of my efforts. The first paper I wrote on the subject when I was very new at energy systems analysis was "Thermodynamics, Availability, and Emergy". You can look at that paper, which has some nice sentiments, if you have the time, but the next three papers represent the most important work I have ever done.
I think I had better repeat the note from January, 2013, about my new blog that I left in the section on recent activities:
N.B. For the last few days, I have been posting short papers and some of my current thoughts on ERoEI to a new blog at http://eroei.blogspot.com/ in an attempt to remedy the inadequacies of the received wisdom on the subject that I heard expressed at the podium at the recent Association for the Study of Peak Oil Conference in Austin, Texas. No wonder so many of the Yahoo! Peak-Oil forum members claim that "ERoEI is not what it's cracked up to be". ERoEI and emergy are absolutely essential concepts for understanding our contemporary world; so, we had damn well better get them right, which, by the way, I believe I have done. Therefore, please take a look at the blog and leave comments whether you like the blog or not! Click on http://eroei.blogspot.com/.
This was a study to get a quick estimate of how much effort and energy is wasted in the pursuit of money in the United States. Energy in a Natural Economy
This is a summary of the long paper "On the Conservation-within-Capitalism Scenario", which was written for energy analysts who need mathematical proof that, within Capitalism, no amount of conservation is sufficient to provide a sustainable economy. Therefore, the good beginning provided by an Apollo project for energy must be rescued by changes of a political nature within about twenty years. In the paper, various political economies of an increasingly progressive nature are analyzed. The best possibility is the Natural Economy referred to above. This is not necessarily an ideological conclusion, as it is reached mathematically. The Demise of Business as Usual
This is an educational paper with a working computational simulator. It was written to justify multiplying quantities of money entering the economy by an appropriate Energy over Gross Domestic Product ratio (E/GDP) to determine approximately the increase in the national energy budget associated with that transaction. That technique was used in "On the Conservation-within-Capitalism Scenario" and "The Demise of Business as Usual". In addition, in "Energy in a Mark II Economy", I determined the ramifications of six types of Energy Returned over Energy Invested ratios (EROI) upon various political economies when sustainable primary energy technology replaces fossil fuels. The usual criticism of this useful concept is that no one says what is included in the Energy Invested term. That objection is no longer valid. Begin by reading the Executive Summary.
One should read http://dematerialism.net/eroeistar.htm for an ERoEI ratio that is greater than 1.0 if and only if the technology is sustainable. In this case, what is unsustainable in a market economy might be sustainable in a planned economy, which shows the importance of this ERoEI ratio and perhaps the chief reason that other analysts don't want to use it. This is discussed at http://eroei.blogspot.com/ where my latest thoughts will be recorded.
Recently, I attended the Association for the Study of Peak Oil 2012 Conference at Austin. I listened to a lot of talk about energy returned over energy invested or net energy. Regardless of what it was called, every speaker from the podium used a definition of this important quantity that has three serious drawbacks: (i) it cannot be used to determine if an energy technology to which it is applied is feasible, that is, sustainable; (ii) in the case of renewable energy technologies, it is impossible to know whether their use decreases or increases the combustion of fossil fuel; and (iii) using this ERoEI to determine the payback time that is claimed by the purveyors of the technology might amount to sales fraud. Therefore, I felt it was incumbent upon me to start this blog to at least make an attempt to correct these deficiencies. http://eroei.blogspot.com/
More recently, I wrote http://dematerialism.net/pv.htm to study the problem of bootstrapping a renewable energy technology that requires a large energy investment at the beginning of the project as well as carbon emissions until the project is well underway.
Education
College tuitions keep rising faster than the inflation rate. Soon, young people will realize that college is not worth the cost. They can do better in life without it, and, shockingly, they can acquire a better education without it. Thus, the higher-education bubble is due to suffer the same fate as other economic bubbles. Here is a short list of the defects of institutions of higher education that was suggested by Cindy Hill's essay on adjunct professors as slaves. http://dematerialism.net/educationbubble.htm.
While I search my archives for the comment I wish to make here, let me say simply that everything being taught by the Houston Independent School District (HISD) is either irrelevant in the wake of Peak Oil or wrong. A principal source of error is the religion that causes gang kids sometimes to feel invulnerable.
Graduate education in engineering and science
This is a personal grievance of my own. Originally, it was written as part of a discussion of overpopulation; thus, it appears in Chapter 7 (Geophagy) of On the Preservation of Species.
I now wish to summarize what my thoughts were more than two years ago on the immigration of graduate students in engineering and science by quoting from two letters, the first to Science(not published) and the second to Time (never sent).
The response of engineering faculty members to the survey reported in Science, April 3, l987, [The Impact of Foreign Graduate Students on Engineering Education in the United States]; viz., approval of foreign graduate students, demonstrates disregard for American engineers and, indeed, the rest of the U.S. economy. Professors require research assistants (slaves?) to satisfy their lust for prestige and money; they are blind to the consequences of their greed.
If foreign-born recipients of American PhD degrees leave our country, they transfer technology to competitor nations. (Some foreign-born PhDs work in America for awhile then leave, thus compounding the rapid technology transfer.) The net result is a lowering of the standard of living of American workers. (It is true that in an ideal democratic, egalitarian world with fair play between nations this lowering would not occur.) If foreign-born PhDs stay in the U.S., they compete with American PhDs and drive down the market value of the degree, which becomes less attractive to talented American students.
It is hypocritical to encourage Americans to do graduate work while admitting foreigners into graduate programs. Also, to accept tuition from a student to launch his or her engineering career and then to undermine that career by glutting the employment market is, at best, a breach of faith. Of course, academic, governmental, and industrial employers of engineers benefit from a large, cheap, readily available supply of engineering talent, but why should the exploitation of engineering be more rewarding than the practice of engineering! It is ironic that an American engineer could lose his or her job to a foreigner whose education he or she has supported through taxes.
Even if we are willing to ignore the best interests of American engineers, we should not accept graduate students from countries with governments or social systems of which we do not approve. If they return to these nations, they reinforce a bad political (or social) system with American expertise. If they do not return because, for example, they do not approve of the political system, they decrease the possibility of reform through dissent. (If they approve of the bad political system, they are not likely to have a positive impact on American society.) On the other hand, if the student comes from a "good" country, we do that deserving nation a disservice by increasing the likelihood that its pool of talent will be depleted.
Potsdam, New York
May 10, 1987
[Note in proof: Of course, nowadays, I don't believe that any "good" nations exist. Moreover, it's hard to imagine a country with a more repressive government than ours, however Singapore comes to mind. In any case, to argue that things are good here because they are worse elsewhere is the well-known ad metum fallacy.]
Foreign-born engineering graduate students [Education, Jan. 11] transfer technology instantly to our competition if they return home. If they stay here, they are often exploited, particularly by universities, and they drive down the market value of the PhD degree, which then becomes insufficiently attractive to young Americans. Engineers (including immigrants) should petition congress to curtail sharply the number of student visas issued and to prohibit subsidizing foreign students with public funds. It would be ironic if engineers were displaced by (even newer) immigrants whose educations they have paid for through taxes.
Houston, Texas
January 7, 1988
I feel now essentially as I felt then. I have been replaced successively by two foreign-born engineers, both of whom tolerate circumstances of their employment that should be intolerable to most Americans of my generation with my expectations. It is not that these people dispossessed me. I was leaving those jobs anyway; but, if a large supply of ready and willing workers weren't standing behind me waiting to take my place, my employers would not have been able to get away with some of the employment policies that made working for them so degrading. Thus, management has been able to reverse the trend of improvement of working conditions that engineers enjoyed for a number of decades. I noted recently that the M. W. Kellogg Company, a formerly U.S.-owned engineering construction company, which in the best of times peddles the warm flesh of its employees to its clients who pay by the engineer-hour, now takes sick leave out of vacation pay, an open invitation to work while one is sick and to infect one's fellow employees. This could not have been done without the help of the U.S. immigration policy and/or competition for jobs from abroad, although it must be admitted that this company obtains a great deal of work that should be done by the nationals of other countries.
Before I make a few additional observations, let me say that I have nothing but the highest regard for most of the foreign-born engineers and scientists I have met. I really like them and I have enjoyed the opportunity to meet and know people whose backgounds and experiences are different from my own. I am not a bigot. I am not even a xenophobe. [Note in proof: At a recent technology conference I heard an older Indian engineer say to a younger Indian engineer who had been educated in the U.S. and a resident for ten years, "Why should they hire you? They can get someone right off the boat from Bombay much cheaper."]
Observation 1: In the event that the U.S. finds itself at war, it will find itself hard-pressed to fill scientific jobs that require security clearance. Actually, it is unlikely that our enemies, including Japan, have been so stupid that they have not placed spies in the American scientific and industrial community. [Note (12-3-90). Americans used to be concerned about wars with communists, but the war with Iraq for which the country is preparing at this writing is a war among capitalists. Capitalism spawns economic competition and economic competition spawns wars. Japan has been at war with the United States almost continuously since 1941. Nowadays the war takes the form of economic depredation at which Japan excels.]
Observation 2: The American ruling elite has a long history of exploiting immigrants. Now, immigrants are being exploited at a slightly higher level but, essentially, as scabs.
Observation 3: Many immigrants are coming from nations that do not permit foreigners to work.
Observation 4: All things being equal (and they never are), each new immigrant must be accounted for by an additional person unemployed and an additional person without a home. Much of the burden of immigration is borne by disadvantaged American minorities. When new housing is built, animals are displaced. As Calvin of "Calvin and Hobbes" puts it, "Squirrels can't afford condominiums."
My Personal Viewpoint
Fortunately, my higher education was in engineering and mathematics where the only matter of opinion is whether the subject is worth learning. When we study the design of an ethylene oxide plant, we ought to discuss whether or not it is wise to build such a plant. Of course, most professors do not raise such questions. Normally, the professor leaves the student with the impression that it is OK to build such a monstrosity; and my experience with practicing chemical engineers is that almost all of them are unwilling to consider the opposing earth-as-a-garden viewpoint. This leads them into some interesting conflicting logic, which they tolerate quite well with their well-developed ability to doublethink. I could tell some stories here, but let me say only that when I suggested that we ought to phase out big industry in a talk at the Houston Chapter of the American Institute of Chemical Engineers, most of the audience went ballistic – although without loss of decorum. Surprisingly, a nontrivial number expressed agreement and even the president of the Chapter, a vice-president of a major industrial and chemical construction company, defended me; but, then again, he and I are friends.
Before college and in the divisions of universities that shouldn't exist, e.g., business and marketing (since they teach lies and how to lie), I perceive two major difficulties in the curriculum: (1) students are taught horrendous lies, e.g., America is the greatest nation on earth with the ideal political and economic system, and (2) students are inculcated with the delusion that the sole purpose of an education is to get good grades so they can make more money, which sounds like something written on the back of a book of matches. This latter promulgates the notion that it is the student's duty to prepare himself to be a cog in the giant industrial-business-governmental machine.
In addition, the schools are troubled by an extremely inefficient top-down hierarchical administration that provides endless impediments to the sincere teacher. As for the universities, they seem to be run for the benefit of a handful of top dogs who benefit the most from the university's existence. The increases in tuition outstrip inflation every year. Where does the money go?
I have much more to say about education, including my prescription for a good education, in various essays in Vol. II and Vol. III of my collected papers [3]. What really burns me though is the shoddy education I received in music, my first true love (my love of chemistry was a childish infatuation with explosions). Every grade school graduate should be able to recognize intervals, chords, and scales, and be able to sight sing reasonably difficult compositions. Perhaps, then, we wouldn't have to put up with the horrendous unmusical popular pabulum that permeates our airwaves and, outrage of outrages, our telephones when we are put on hold, which happens nearly every time we call business or government.
Character Education, Anti-Drug Propaganda, and Religion
Character Education
The Houston Independent School District (HISD) is considering putting into place a professionally designed Character Education Program. Look at some of the things they will teach and decide for yourself if this enhances the student's ability to reason. Before you can teach character, you really have to know what it is, and I don't know anyone at HISD who does know anything about good character – almost certainly not anyone who would be teaching it. Certainly, not anyone who works for a public or private school or university. Most "successful" teachers are good politicians, which might not be compatible with a good grasp of ethics and the attributes of good character. What follows is a discussion of some of the major topics covered in a course in "character education" that the HISD is considering for adoption (if they haven't already adopted it):
Loyalty
"Write the pledge [of allegiance] on a chart and verify that the students understand the meaning of all the words in the pledge." How about the word indivisible and the word God? Does anyone know the meaning of the word God? Does this mean that people with good character are anti-secessionist? Further they ask the students to discuss loyalty pledges. Shades of McCarthyism.
Justice
"Have the students brainstorm all the phrases they have heard that contain the word 'justice'. You can help them by providing some examples such as 'justice of the peace', 'Supreme Court Justice', '...with liberty and justice for all', etc. The students can infer the definition of justice from these phrases." I very much doubt.
Justice in the real world is discussed. What can they possibly say? "...but we will focus our attention on solving injustice in a positive manner." Undoubtedly, this means within the establishment. Fat chance.
Teacher (from character-education manual): Everyone has a right to seek justice in the courts.
Teacher (from manual): Observe the city government in action.
Wise-ass student: Do they mean in public or in the smoke-filled rooms?
Teacher (from manual): Invite a judge or an attorney to visit the classroom and discuss the justice system.
[The scene changes]
Attorney: Well, kids, there's this favor bank. Joe does something for me and I get his client off light.
Judge: We get a little on the side in bribes. For example, I'm owned by the Gambini family. They don't get no rumble from me. Like the man said, "Be fair, but, if you can't be fair, be arbitrary."
Teacher (from manual): Invite a police officer to come and speak to the students on this subject.
Cop: Well, kids, I'm only the bag man, so I can't speak with authority.
Commitment
"You can use this opportunity to discuss commitments that politicians make to their constituents and why and how the politicians are held accountable to these commitments. You can invite a politician to speak to the class or collect newspaper articles illustrating how politicians are meeting specific commitments." Yep, nothin' beats a politician for good character, I don't think. I think I read somewhere in my copy of the character-education manual that both (notice, not all) political parties want what's best for the American people; they just have different ideas about how to achieve it.
Self-Discipline
This is mostly an attack on drugs and I discuss that below and in Vol. I of my collected papers [3]. But, at least this gives the students a chance to notice that the teachers are liars themselves; so, naturally they are quite competent to inculcate good character. Ha. Another bad habit, though, that is disparaged is staying up late at night, regardless of the well-known fact that nearly all good intellectual work gets done in the middle of the night. They preach day-people chauvinism and bigotry against night people.
The Scapegoating of Drugs and Mass Hysteria
As if the lies concerning ethics, private enterprise, and government, including its history, weren't bad enough, the children have their minds made up for them concerning the desirability or undesirability of taking drugs. As in every other case, there is a time and place for drugs and "Just say no" encourages decisions without contemplation and reinforces stupidity. The efficacy of drugs is an open question and educators may not determine which side of an open question is correct.
Religion
Finally, we have the intrusion of religion, especially prayer, into the schools. This encourages unreasonableness to a marked degree whatever positive effects can be achieved by the childish imagination and the self-hypnotic effects of prayer. It is unconstitutional and it is immoral. Moreover, it is blasphemy! The people who encourage this idiocy are irreligious themselves regardless of how they spend their Sundays. If they actually believed in a god who watched their every deed, they could not behave as they do; therefore, I must conclude that they are atheists whatever they call themselves. Again, the rest of this is covered in my essays on religion in my collected papers [3].
John Gatto's Seven-Lesson School Teacher
I wish to list the seven lessons in Gatto's excellent paper [4]. It is worth taking the trouble to look up this reference. Now, Gatto's case is certainly not one of sour grapes because he won the award for the outstanding school teacher in New York State, regardless of the meaninglessness of the award. I, for one, never noticed his seven points while I was in school; so, I was a victim, which accounts for some of the brainwashing performed upon myself, which, by the way, has taken decades to overcome, if, indeed, I have overcome it yet.
Lesson 1 (Confusion). Everything is taught out of context – disconnected facts rather than meaning.
Lesson 2 (Class position). Students are numbered in more ways than ever before.
Lesson 3 (Indifference). When the bell rings, we drop whatever it is we were learning as if it had no more importance than a discussion on the "Larry King Show" when a commercial break is due.
Lesson 4 (Emotional dependency). "By stars and red checks, smiles and frowns, honors and disgraces, I teach you to surrender your will to the chain of command." Students are hostages to good behavior.
Lesson 5 (Intellectual dependency). "Successful children do the thinking I appoint them with a minimum of resistance and a decent show of enthusiasm. ... Curiosity has no important place in my work, only conformity. ... Good people wait for an expert to tell them what to do. ... [O]ur entire economy depends on this lesson being learned."
Lesson 6 (Provisional self-esteem). "I teach that your self-respect should depend upon expert opinion. ... People must be told what they are worth."
Lesson 7 (You can't hide). There is no private time. Schedules are designed to prevent fraternization. Homework extends constant surveillance into the home even. "The meaning of constant surveillance and denial of privacy is that no one can be trusted, that privacy is not legitimate."
The role of materialism in the mis-education of youth
This topic is covered in Chapter 9 of On the Preservation of Species but not in a compact sub-section. It is distributed throughout the chapter – occurring wherever logic requires it. http://www.dematerialism.net/ops.htm#chapter9
#epigraph* Footnote to epigraph: On February 4th, 2006, I wrote, "My critics believe that evolutionary psychology provides irrefragable evidence that, regardless of any moral consideration, our propensity to acquire resources in as great excess as possible - which is a hard-wired adaptation that arose during the Pleistocene, our Environment of Evolutionary Adaptedness, due to its usefulness for survival - cannot be suppressed in any manner whatever. I believe that it can be transcended through persuasion, education, indoctrination, diversion, and/or coercion. It would not be important except that the fate of the human race (extinction or not) depends upon who is right". Formerly, I wrote the Fundamental Principle in terms of voluntary abandonment of the pursuit of wealth, as many people, myself included, abhor the activity in themselves and others; however, initially, at least, there will be a large residuum of people who must be required by law to desist from competition for material wealth. Why should they not be so restrained, as the practice is just as harmful to its victims as murder, which is unlawful in every society; and, the class of victims includes every living thing!